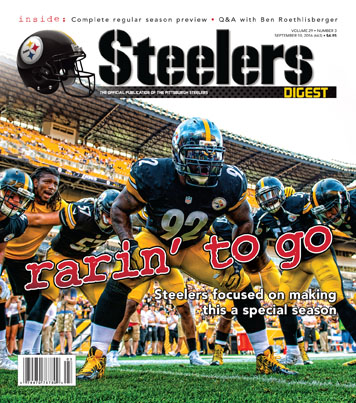 The 2018 ticket promotion has expired
If you paid for a 3 year subscription between February 15, 2018 and April 23, 2018, you are eligible to purchase two tickets to one of three 2018 home games!
You must pay for a subscription by Monday, April 23 (Mailed renewals must be received before this date). Then you can send an e-mail to steelersdigest@yahoo.com starting Tuesday, April 24 and ending Thursday, April 26. At that time you will learn which games are available and you must place your order within that three-day window. Tickets are limited! The ticket option is available only in the first year of a three-year renewal and, remember, YOU MUST e-mail us.
If you are visiting this web page due to a promotional offer you've seen elsewhere and do not see the same promotional pricing/incentives listed on this page, please contact our offices at 800-334-4005 to place your order. We will update the web page accordingly as soon as possible.
Please do not assume that you will receive the gift incentives noted on your printed renewal offer if it is not explicitly listed in the available subscription options above.
Publishing Schedule
Steelers Digest is published after every two games during the season (September - December) and once every several months off-season (usually late March, mid-May, late July, and late August). Upon ordering, you will be entered to receive the next issue of Steelers Digest.
Subscription Policy
We regret to inform you that we cannot process international orders via this website at this time. Please contact our offices at 800-334-4005 for more information on international shipping.
Please note that all subscriptions are final.

Steelers Digest has no control over the timeliness in delivery of issues. Any delivery delays should be communicated to your local post master general. In most cases, delivery delays can only be corrected by upgrading the subscription to 1st class delivery. We would be glad to fairly pro-rate the cost of 1st class delivery according to the length remaining on existing subscriptions.
Contact Us
For any questions related specifically to your Steelers Digest subscription, please contact customer service by filling out the form below. Please provide the mailing zip code that we currently have on file for you.